Description:  4-Part Square Relish
Item Number:  #RB-01
Length:  11″
Production Dates:  1934-1943
The Fostoria Glass Company classified this piece as a relish and/or buffet dish.  With four separate compartments, it can easily hold relish, food, and a variety of other items.  The lipped edge makes it easy to transport from one room to the other.
The 4-Part Square Relish was only made for about nine years, from 1934-1943.  When it was first introduced in 1934, catalogs stated it as being 11″ square.  A year or two later, Fostoria changed their description to reflect it as being 10″ square.  When I took the tape measure to my own pieces, the 4-Part Square Relish is exactly 11″ square – measured from the outermost edge of one rim to the other.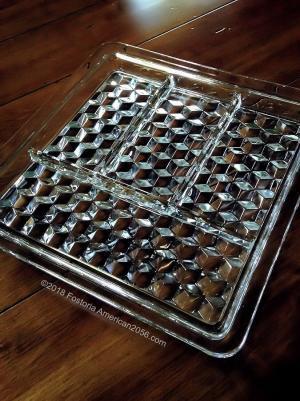 This particular buffet dish is very similar to the 10″ Square Tray.  The 4-Part Square Relish has a substantial rim of clear glass all the way around it.  The four partitioned components help keep everything separate and organized.
Years ago, most relish trays were for finger foods.  They not only offered something simple and delicious to eat, but were also attractive to look at.  Arranging the food in a pleasing and attractive fashion was almost as important as the food itself.
Since this piece was produced for less than a decade, quantities will be somewhat limited.  The good news is that you can still find them.  Regarding rarity, I would rate them as being in the middle of the scale.  Not rare, but not common either.
If you are interested in learning more about current availability and pricing for this piece, please click the following sponsored link for available 4-Part Square Relish dishes on eBay.