Item Number:  #T-09
Length:  10″
Production Dates:  1926-1943 and 1924-1925 as Square Plate
aka (Square Plate)
While the American pattern produced quite a few trays in various sizes and shapes, the 10″ Square Tray stands out from the crowd.  This particular tray has a plain rim, void of any cube design (much like the 12″ Round Tray).  The surface of the tray is smooth, to allow for glasses and other items to sit properly.  Any American piece would look stunning on this handsome tray.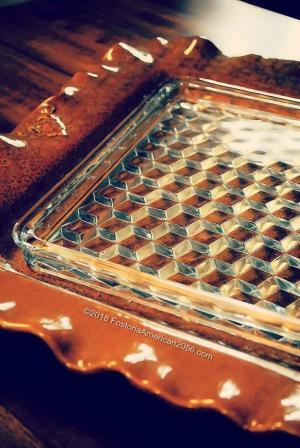 Catalogs state the Square Tray as being 10″ in length and width; however, expect some slight fluctuations.  My own personal trays are closer to 10¼" in measurement.  Regarding production dates, I am estimating them to be between 1924-1943, and under two different names.  It is thought that this piece started its life as a "Square Plate", and then a couple of years later it was called the "Square Tray".  In comparison to other pieces in the American line that enjoyed a long production life, the Square Tray was only made for less than twenty years.
This piece is not a common find, simply because of the initial supply.  When you do find one, pay special attention to the inside lip and four corners of the tray.  This is where you might find the most damage, either from the removal of the mould, or from normal usage.  Since the top of the Square Tray has smooth glass, one should also look for scratches and other possible imperfections from lifting, storing, or sliding items on the tray.
If you are interested in learning more about current availability and pricing, please click the following sponsored link for available Trays on eBay.