Item Number:  #BOT-4
Approximate Size:  9¼" H – 44 oz.
Production Dates:  1915-1925
I think most would agree that the Water Bottle is an amazing piece of glass craftsmanship.  It debuted with the introduction of the American pattern in 1915.  The bottles were only produced for ten years; however, they made an impression that has lasted over a century.  They feature a long smooth neck, void of any cube design, making it extremely easy and comfortable to hold.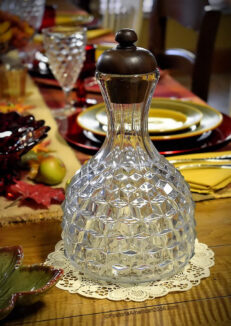 It is important to mention that the Water Bottle was never offered with a stopper – wood, or otherwise.  While some books on Fostoria American show this item with a wood stopper, the Fostoria Glass Company never offered it as such.  Obviously, a stopper or cover can be put on the bottles – just realize that this is not its original state.  Some collectors will not care one way or the other; however, this detail might be important to a collector wanting to keep their pieces historically correct.
In regards to the wood stoppers, there is a remote possibility that they won't fit your Water Bottle.  I have personally bought a couple of wooden stoppers online, and when they arrived, neither one actually fit.  Since the American pieces were all finished by hand, there was just enough difference in the formation of the neck that prevented either of the stoppers from gliding into the bottle.  I learned a valuable lesson.  It is always preferable to have your Water Bottle present should you decide to buy a stopper, for that is the only way to guarantee that the two pieces will fit together. This is especially important if you buy from a seller that does not offer returns.  Most times you will probably not have a problem, but be aware that this scenario can happen.
If you are interested in learning more about current availability and pricing, please click the following sponsored link for available Water Bottles on eBay. The Water Bottles are not a common item, so it is possible that none with pop up in your search results.  Keep looking; however, as they do show up on eBay every now and again.  Good luck!