Item Number:  #716
Height:  4″
Production Dates:  1940-1958
Since all other American Toppers were part of the Smoking Accessories category, one would logically assume that this grand 4″ size would be too.  It's bigger, so maybe it was used for cigars – instead of cigarettes?  Needless to say, that assumption would be incorrect.  Upon doing my research for this item, I was very surprised to learn that the 4″ Topper was considered a vase, not a smoking accessory.  Fostoria Glass categorized it accordingly.  Each Topper had a specific purpose, and this larger one had nothing to do with smoking – and everything to do with flowers!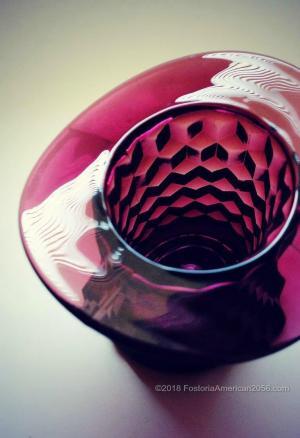 Being the largest of all Toppers produced in the American pattern, it stands about 4″ high and has a top diameter of approximately 6″.  It was also offered in white milk glass.  Each of the milk glass Toppers had different production dates.  The Topper Vase was only produced in milk glass for about five years, circa 1954-1959.
After the sale of Fostoria Glass and under the new ownership of Lancaster Colony, the Topper Vase was then produced by Dalzell Viking Glass in a plum and bluish-gray color.  Other experimental colored Toppers might show up from time to time; however, the only color put into production at the Fostoria Glass factory was white milk glass.  The plum and bluish-gray Toppers were produced by Dalzell Viking Glass, under the American label.
If you are interested in learning more about current availability and pricing for similar items, please click the following sponsored link for available Toppers on eBay.