Item Number:  #715
Height:  3″
Production Dates:  1939-1958
The 2056 line of Toppers includes some of the most under-appreciated items in the entire American pattern.  Many times they are ignored or overlooked, for when the Toppers stand empty and alone … they just don't stir up a lot of excitement for most folks.  In truth, they are very versatile pieces which can be used for a multitude of purposes and holidays.  These hats are adorable for St. Patrick's Day, Easter, Mother's Day, and many other celebrations!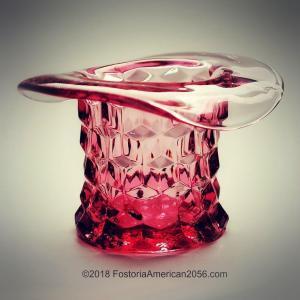 When this particular Topper was introduced, it was marketed as a cigarette holder.  Back then, when smoking was very popular, the perfect host would set the table with ash trays, cigarettes, and matches for their guests.  The 3″ Topper was the perfect size to hold the cigarettes, while the 2½" Topper held the matches.  The top diameter of the 3″ Topper is approximately 4½ inches.
All of the Toppers in the American line were also offered in white Milk Glass.  Each of the Milk Glass Toppers had different production dates; however, the 3″ Topper was produced from 1954-1965.  This particular sized Topper was very popular, and it had the longest production life during the Milk Glass years.
After the sale of Fostoria Glass and under the new ownership of Lancaster Colony, the 3″ Topper was then produced by Dalzell Viking Glass in a Cranberry/Pink color.  Other experimental colored Toppers have also been found; however, the only regularly produced colors for this particular piece is white Milk Glass (made at the Fostoria Glass factory) and the Cranberry/Pink color by Dalzell Viking.
If you are interested in learning more about current availability and pricing for similar items, please click the following sponsored link for available Toppers on eBay.