Item Number:  250
Height:  7¾"
Production Dates:  1915-1970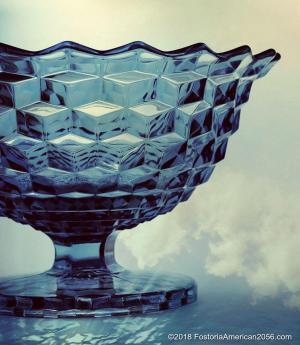 This particular piece is very interesting.  Why?  Because it officially went by three different names – the Small Punch Bowl, the Footed Fruit Bowl, and the Tom & Jerry Bowl.  It was introduced to the world in 1915, under the name of the 12″ Footed Fruit Bowl.  As years went by, Fostoria Glass eventually listed it in their catalogs as the 12″ Footed Fruit Bowl, Small Punch Bowl, or the Tom & Jerry Bowl.
No matter how you use it, or what you call it – this treasure is amazingly versatile.  The base of the foot is approximately 7¼" in diameter, and the bowl opening measures about 12″ in diameter.  From the foot to the top rim, the Tom and Jerry Bowl stands about 7¾" high.  Expect slight size variations though, as some have been reported to be slightly taller.  While all of the bowls have a flared shape, it is possible to find them less flared – most noticeable towards the top rim.
Once the Fostoria factory closed in 1986, Dalzell Viking produced this piece under the Fostoria American label in limited colors of Cranberry Mist and Blue Gray.  If you have a Fostoria piece in either of these two colors, then it was an item that was most likely produced in the 1980s-1990s.
If you are interested in learning more about current availability and pricing for this piece, please click the following sponsored link for available Small Punch Bowls on eBay.