There were several different types of Salt and Pepper Shakers made in the Fostoria American line.  This particular Shaker, with Chrome Top "A", was a popular guest on the dinner table for many years.  Tapered in design, it has a height of approximately 3½ inches.  The Shaker had different tops over the years; hence, the height measurement can vary slightly.
It is important to note that this particular Shaker, with Chrome Top "A", has a Look-Alike piece in the American Whitehall pattern.  The American Whitehall pattern was not produced by Fostoria Glass Company; it was produced by Indiana Glass – a Lancaster Colony company.  The American Shakers and the American Whitehall Shakers almost look identical.  In fact, most people can't tell them apart.  However, there are differences – and those differences (both in quality and design) should be important to you when purchasing them.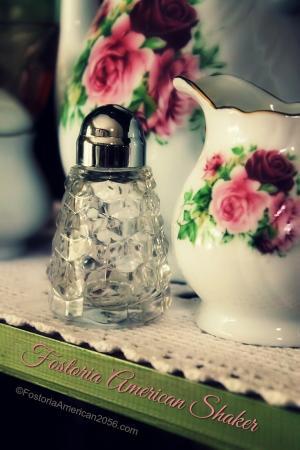 Over the years of production, different variations were made in regards to the finish and composition of the Tops.  An older version had a Silver Top, with the Chrome Top being introduced later.  With heavy years of use, in combination with the salt corrosion factor, the finish on the Tops can become worn or flaky.  When the Salt Shakers are not in use, the best practice is to empty the salt from the vessel.  By doing so, you can help prevent the glass from becoming cloudy, and assist in preserving the Shaker's chrome finish.
If you are interested in purchasing similar Shakers, please click the following sponsored link for available Salt and Pepper Shakers on eBay.