Item Number:  #453
Height:  5⅜″
Production Dates:  1937-1973
As the name implies, this pitcher has a holding capacity of approximately one Pint.  When it was first introduced in 1937, its official name was the "Pint Cereal Pitcher".  As the years went by, Fostoria Glass simply called it the "Cereal Pitcher".  With such a precise and descriptive name, one does not have to wonder what this piece was designed or used for.  When placed on the table, this pitcher will hold just the right amount of milk to serve with bowls of cereal.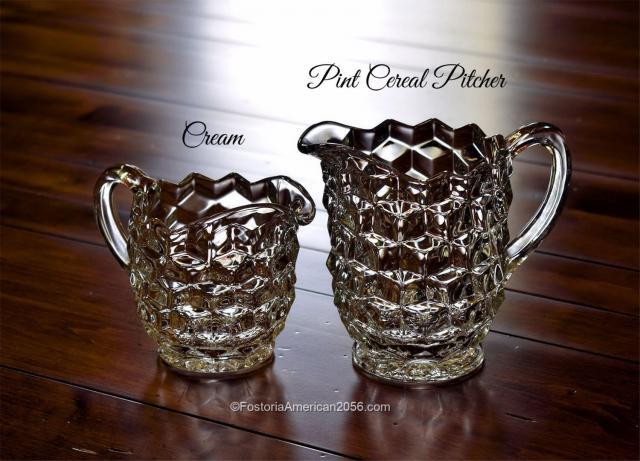 Pitchers and/or Jugs in the American line are often misidentified.  When looking at a picture of a single item, when their is no reference to sizing or measurements, many of them look the same.  Therefore, I thought it would be helpful to show a side-by-side photo of the largest Creamer next to the Pint Cereal Pitcher.  Here you can more easily see their size differences, with the Pint Cereal Pitcher being almost 1½" taller when measured from the top rim of each.
Of all the Pitchers and/or Jugs that Fostoria produced in the American pattern, with the exception of the Creamers, the Pint Cereal Pitcher is the smallest.  It has a 4″ side-to-side outside diameter, 2⅞" foot diameter, and is approximately 5⅜″ tall (measured to the top of the handle).
If you are interested in purchasing this piece, please click the following sponsored link for available Cereal Pitchers on eBay.