Item Number:  611-PB
Height:  4⅝"
Production Dates:  1915-1980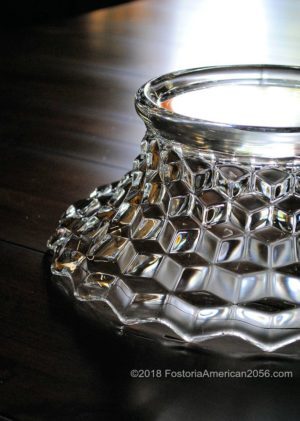 The Fostoria Glass Company produced three different types of supports for their American Punch Bowls.  The punch bowl stands that were introduced first were the Low Foots.  They debuted in the original Fostoria American catalog of 1915.  The Foot for the 18″ Punch Bowl was made from 1915-1980.  Needless to say, it was a very popular item.
While the Bases and Centerpieces are basically the same item, there is one distinguishing difference between them.  The true supports for the punch bowls (whatever the size) will not have a rayed center in their glass base.  In other words, the flat center of the base (where the punch bowl actually sits) will be void of any design.  It is a circle of plain glass.  The same-sized Centerpiece; however, will display a rayed center in their glass base.
If you are interested in learning more about current availability and pricing for this piece, please click the following sponsored link for available Punch Bowl Feet on eBay.