Item Number:  #462-NC
Approximate Size:  5½" D – 1⅝" H
Production Dates:  1915-1944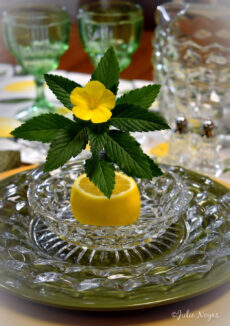 Many people think that the Lemon Dish was always offered with a cover.  That simply is not true.  Fostoria Glass offered this piece with, or without, a cover.  This post is in regards to just the Lemon Dish, without a cover.  This item was introduced in 1915 and produced for many years thereafter.  It was offered without a cover through 1944; however, when the Lemon Dish was reintroduced in 1947, it was only available with a cover.
Without a cover, the Lemon Dish stands about 1⅝" tall (measured to the top of the handle).  This lovely dish can be used for a multitude of purposes – such as a candy, confection and/or a relish dish.  I often use it as a unique vase, holding a flower that has been embedded into a lemon wedge.  It smells divine, and is always a show-stopper!  If you would like to learn more about current prices in today's market, please click the following sponsored link for available Lemon Dishes on eBay.