The Fostoria American Ice Cream dish is known by a couple different names. In the early years, Fostoria described it as the Ice Cream Saucer.  Later, it was described as just the Ice Cream dish. Today, there are others that refer to it as the Brick Ice Cream Plate.  I will adhere to what Fostoria Glass last described it as … and that was simply the "Ice Cream" dish.
Currently, I do not have concrete evidence of the true production dates for the Ice Cream dish. Some published books on Fostoria American state that the ending production date was in 1932; however, others state that they were produced through 1944.  I do know, after researching my own catalog data, that the Ice Cream dishes were still being produced in 1939.  By the mid-to-late 40's, they were no longer being produced.  In conclusion, the Ice Cream dishes (AKA Saucers/Plates) had a shorter production life than many of its American siblings … so they will be an item that is not commonly found in great surplus.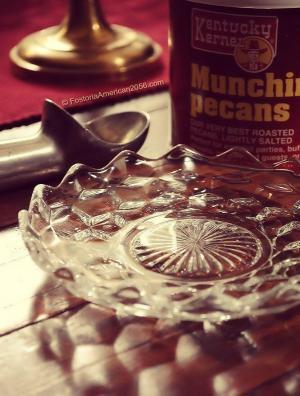 The Ice Cream dish is approximately 5½" in diameter.  Remember, these dishes were handmade – so some size variation is to be expected. The outer rims are flared upward, creating a nice nesting spot for delicious ice cream (or some other tempting dessert).
While there are other ice cream-related pieces in the American line, they were either classified as Trays, Appetizers, or Sets. The Ice Cream dish stands alone, and is not part of an official set.
If you are interested in learning more about current availability and pricing, please click the following sponsored link for available Ice Creams on eBay.