The Handled Lunch Tray is an item in the American line that rarely gets talked about.  While it is not a particularly common piece, it certainly is not rare either.  It was produced from 1939-1973 by Fostoria Glass Company. Thankfully, it is still fairly easy to find. The Handled Lunch Tray is uniquely beautiful in design, and certainly worthy of your attention.
One interesting fact regarding this piece is the number of mould seams it has.  While a good majority of items in the American line have three mould seams, others can have as many as four – or as few as none at all.  This particular piece is different in that it only has a total of two mould seams.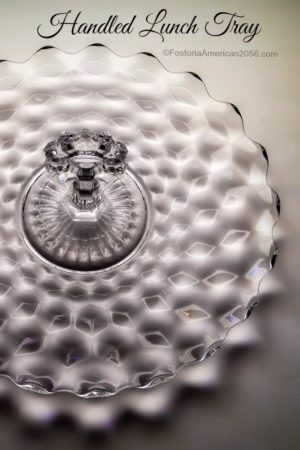 The Handled Lunch Tray boasts a circular star burst handle that stands proudly above the center of the tray. The open handle design allows for easy finger access and handling.  The Tray is approximately 12 inches in diameter, and will prove to be a great server for a multitude of foods, appetizers and/or desserts.
If you are interested in learning more about current availability and pricing, please click the following sponsored link for available Handled Lunch Trays on eBay.