Item Number:  #306
Diameter:  10″
Production Dates:  1948-1982
The Handled Cake Plate is a very versatile piece.  When compared to other Fostoria American cake serving pieces, it is smaller in scale and general appearance.  With two handles, it is very easy to transport from one place to the next – and is not bulky in weight.  It is a very useful dish for serving a variety of foods – from desserts, appetizers, breads, etc.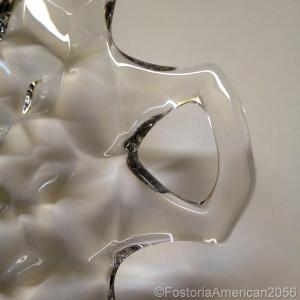 The Handled Cake Plate is approximately 10″ in diameter.  The measurement from handle to handle is about 12″.  It has a beautiful starburst (or ray) design in the center.
This piece was first introduced around 1948 and then produced for many years afterward – up to about 1982.   A more common piece in the Fostoria American pattern, it will not be too difficult to locate in today's aftermarket.  If you are interested in purchasing this piece, please click the following sponsored link for available Handled Cake Plates on eBay.