All you have to do is take a look at the shape of this piece, and you will instantly understand the origin of its name.  Simply put, it looks like a boat. The green pieces of Fostoria American are rare, and they were only produced for a couple of years in the mid-1920's.  The Boats were primarily made in clear crystal and came in two sizes – Small and Large. Fostoria did make Boats in other colors as well – such as Amber, Black Milk Glass, etc. The colored Boats are harder to find because of their limited years in production, and with that, comes a much higher price tag.
The Green Boat pictured in this post is the larger size – measuring in at approximately 12″ in length –  from handle to handle.  While Fostoria Glass Company officially called this piece a "Boat", many folks also refer to it as a Relish Boat or Relish Dish.  As you can tell from the picture, the hue and clarity of the Green Boat is quite spectacular.  These pieces can add some vibrancy and/or holiday color to your table during special occasions.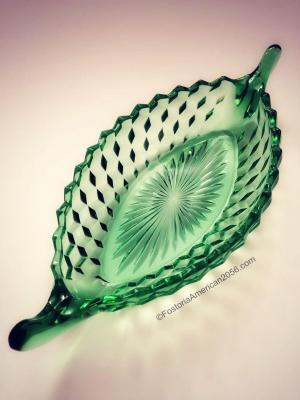 Because of the limited production of the colored pieces, finding them in the aftermarket will be more difficult.  Every now and again you will find one pop up on eBay, and if are lucky enough to find one, I would recommend trying to bid on it.  When searching for this particular piece, you might want to include some additional search terms – such as "green relish dish", "green boat", or "fostoria american green", etc.  As I mentioned earlier, quite a few people refer (and know) this piece as a relish dish – and not as a "Boat".
If you are interested in learning more about current availability and pricing for similar pieces, please click the following affiliate link for available Boats on eBay.