Item Number:  #815
Height:  10″
Production Dates:  1938-1970
There were three different sizes made for the vases that had top flared edges, with mainly straight sides.  The Flared Vase pictured here is the 10″ size, which is the tallest of the three.  All of them were introduced into the American pattern in the mid-to-late 1930's, with the 10″ Flared Vase being introduced last – and discontinued first. Therefore, in my opinion, it is more valuable than the two smaller sizes.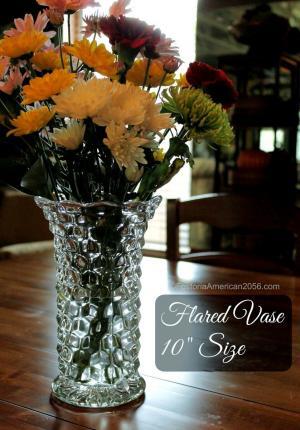 The top edge of the vase flares slightly outward, just enough to allow the flowers to drape gently to the sides.  I find that this characteristic of the vase greatly reduces my flower "arranging" time.  Flowers seem to automatically stand straight in the center, and drape to the sides.  The opening of the vase is approximately 5¾" wide, so it can accommodate a large bouquet with ease.  No matter the type of floral arrangement you place in the vase, all of them look beautiful – even this inexpensive assortment bought at a local supermarket.
Usually, but not always, the price you pay for the Flared Vase in today's world is dependent on their size.  If you are interested in learning more about prices for the Flared Vases, please click the following affiliate link for available Flared Vases on eBay.