Item Number:  #UD-01
Diameter:  3¾"
Production Dates:  Unknown
Out of all the Coasters considered to be from the American pattern, this is the one that is the most mysterious.  The reason is simple.   It is not included in the William Litman book on the American pattern (endorsed by the Fostoria Glass Society of America), nor is it recognized by other renowned and respected authors.  It is; however, mentioned in a few other books.
Why is this particular Coaster not being included in all published resources on the American pattern?  Since the 12-Ray Coaster does not appear to have been cataloged by Fostoria Glass, many researchers simply overlook it.  Of those that do include it, I can't validate their findings through official Fostoria records, catalogs, and/or advertisements.
I do know that this particular Coaster was reproduced after Fostoria closed, which is indicative of a mould that was still in good shape and repair.  I personally believe that this item is the last coaster that Fostoria made.  The thinner 16-Rayed Coaster had production and breakage issues, so it is very plausible that the thicker 12-Ray Coaster was designed to correct the problem.  This scenario would make sense, and also account for why it is not listed in any of the last Fostoria catalogs.  This was all happening during the last breaths of Fostoria Glass, with no new catalogs being produced.  It would not be the first time that an American item was not featured in a catalog – or noted in official company records.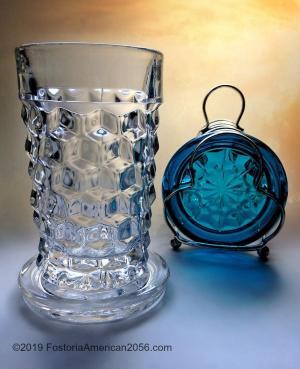 The Coaster (with 12 rays) is approximately 3¾" in diameter.  It will accommodate various sizes of the straight-sided American tumblers.  As seen in this photo, even the large Ice Tea tumbler fits quite comfortably.
There are 12 rays that display in the center of the Coaster, enclosed within a wide band of glass.  This design is different than the first FA Coaster, whose pattern has cubes all over.
To make things even more intriguing, the blue Coaster you see here was NOT made by Fostoria Glass.  This is a reproduction piece that was made from the original mould.  It is important to remember that these reproductions are not genuine Fostoria American items.  While it would be correct to say these colored reproductions are from the American pattern, it would be incorrect to state that they were made by Fostoria Glass.  Most of the colored Coasters (if not all) were made by Wilkerson Glass.  When compared to the original clear crystal Coasters, they appear to be well crafted.
The 12-Rayed Coaster is very thick and durable, and still easy to find.  If you would like to learn more about pricing and availability, please click the following sponsored link for available Coasters on eBay.