Item Number:  #CP-01
Diameter:  15"
Production Dates:  1935-1944
Of all the centerpieces that the American pattern produced, the 15″ size is the largest and the least plentiful.  Some folks refer to this piece as the "hat-shaped" centerpiece, based on how it looks.  With its large diameter flaring out like a rim on a hat, it's easy to understand the visible connection.  Fostoria Glass simply called this item their 15″ Centerpiece, and it is approximately 4¼" tall.  Please note that many times this centerpiece may have a larger measurement of 16-inches.  That is the measurement of the one I have in my collection.  Fostoria Glass; however, described its size as 15-inches.  As we all know, expect slight size variations with glass that has been finished by hand.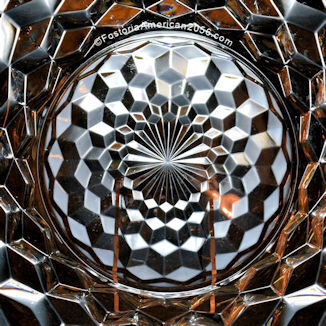 Being in production for less than ten years greatly impacts it current supply in the aftermarket – especially when compared to the smaller centerpieces.  This item was produced from the original Hotel Cracked Ice mould, which resulted in a beautiful and distinctive center design.  This same design can be seen in a couple of other pieces, such as the 18″ Torte Plate.  It is, without a doubt, one of the most gorgeous and artistic pieces in the entire 2056 line.  Due to its unique appearance, it is relatively easy to identify.
If you are interested in learning more about current availability and pricing for this piece, please click the following sponsored link for available Centerpieces on eBay.
  Please realize that you might need to modify your search results, as some people refer to these items as punch bowls, hat centerpieces, etc.