Item Number:  #T-07
Length:  7″
Production Dates:  1916-1925
I am thrilled to share what I know about the American Candy Tray, for it is one of those pieces that is not seen all that often.  Unfortunately, the Candy Tray is rarely talked or written about.  Indeed, there are books on the American pattern that don't even mention its existence!  The reason for it is still a mystery to me, for it is a rare gem and definitely worth our admiration.
The Candy Tray is special because of its age, unique shape, and limited production run.  It was born in 1916, over one-hundred years ago!  This is not an item that was produced for decades on end, like many of the other pieces in the American line.  The Candy Tray was only made from 1916 – 1925.  These pieces are respected elders in the Fostoria family, and they certainly deserve our utmost respect.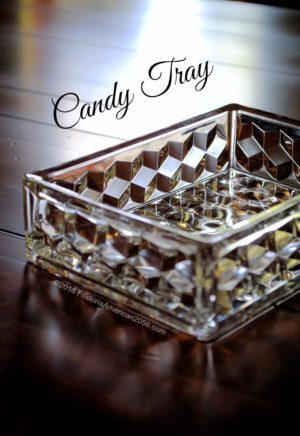 The Candy Tray is often referred to as an "Open Candy Box".  With higher sides than most trays, it easily looks like a box.  However, most boxes have lids; this piece does not.  With no lid or cover, this might be the reason why Fostoria officially classified this piece as a tray, rather than a box.
The overall measurement of the piece is approximately 7″ x 5″, with sides that are about 1½" high (considerably higher than most American trays).  It is extremely well-crafted, with great clarity, luster and weight.
If you are interested in learning more about current availability and pricing for this piece, please click the following sponsored link for available Candy Trays on eBay.
  Since people call this item a tray and/or a box, I have included those terms in the search criteria. Results will be minimal for this exact item, if any. Do keep checking; however, for they do show up every now and again.