Item Number:  #314
Height:  3″
Production Dates:  1936-1982
Out of all the candlesticks produced in the American pattern, this popular 3″ Candlestick is still one of the easiest to find today.  The diameter of the base is approximately 4½", so it is wider than it is tall.  With a substantial base, it sits very securely on a tabletop.
After the Fostoria glass factory was shut down, some of their American 2056 moulds were sent to Dalzell Viking Glass.  The 3″ Candlestick mould was one of the pieces sent for production under the Fostoria label.  After Dalzell Viking Glass closed down operations in 1998, this mould was then sent to L. E. Smith Glass.  Therefore, it is important to note that the 3″ Candlestick was not only made by Fostoria, but also by Dalzell Viking Glass and/or L. E. Smith Glass.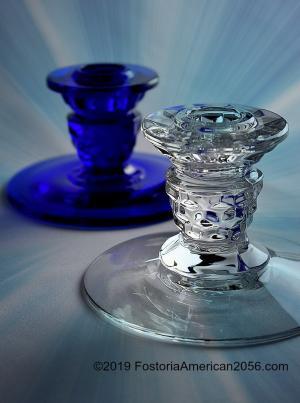 Fostoria Glass primarily produced this candlestick in clear crystal.  Dalzell Viking Glass also made it in a couple of different colors – light Pink, and a Green color.
L. E. Smith Glass went further into the color spectrum and produced these pieces in Cobalt Blue and Amber.  I will state; however, that the quality of glass and craftsmanship on the L. E. Smith pieces that I own are rather poor – especially when compared to those made by Fostoria Glass.
My personal opinion on these candlesticks is this … the ones actually produced at the Fostoria glass factory have the greatest clarity and craftsmanship of them all.  They; however, are also the most plentiful.  The colored candlesticks, whether produced by Dalzell Viking or L. E. Smith, are more difficult to find.  They had a much shorter production life.  They also offer a way to introduce color into your tablescape, which is always a nice option.
If you would like to learn more about pricing and availability for similar items, please click the following sponsored link for available Candlesticks on eBay.