Item Number:  #123
Length:  5″
Production Dates:  1957-1974
Out of all the smoking accessories that Fostoria produced in the American pattern, it is this Ash Tray that is the largest.  The official Fostoria documents state the measurement at 5-inches.  My Ash Trays; however, are about 4¾" – when measured from side-to-side.  It has a squarish shape, with rounded corners.  The bottom of the piece has a nice star-burst design, and flares outward from the bottom to the top edge.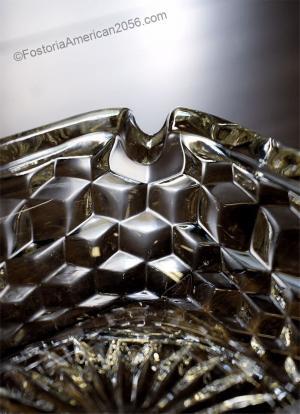 The 5″ Ash Tray is a heavy specimen, and is crafted beautifully.  As far as smoking accessories go, this piece is definitely one of the most gorgeous ash trays I have ever seen.  In each four corners of the tray, it displays a perfectly-sized indentation for a cigarette to rest.  Due to its weight, size, and allowance of four cigarettes to be used at one time, this is the perfect ash tray to be used by multiple smokers and/or guests.
Back in the day, smoking was very popular – and Fostoria Glass produced smoking accessories to meet the demands of its consumers.  Even while many of us don't smoke today, one can still appreciate the craftsmanship and beauty of these items.  Use them for alternate purposes, and enjoy them … for a complete Fostoria American collection would not be complete without them.
These larger ash trays are a bit more difficult to find than their smaller siblings. If you are interested in learning more about current availability and pricing for similar items, please click the following sponsored link for available Ash Trays on eBay.