I refer to these Fostoria American Salt and Pepper Shakers as "regular" shakers because that is how Fostoria referred to them in some of their earlier brochures.  Fostoria also had smaller shakers available.  The smaller shakers were referred to as "individual" shakers (perfect to sit by each individual place setting) – whereas the regular shakers (shown here) were larger and more appropriate for the entire table.
Over the years, the tops to these shakers have changed slightly.  The older versions were commonly made in heavy nickel and/or plated, and are often referred to as "H.N.T." (Heavy Nickel Top).  The final version of the tops were lighter in weight and had a chrome and/or silver-type finish.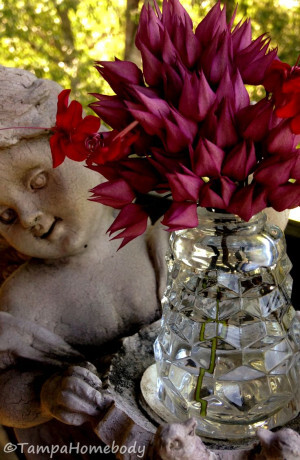 I also like to use vintage Fostoria Shakers for another use, in addition to just serving salt and pepper. For those shakers that have lost some of their luster, or perhaps have a ding or two in their finish … I often use them as little flower vases.  They look darling sitting on a windowsill, or on a dinner table by each guest's place setting.
If you are interested in purchasing this piece, please click the following sponsored link for available Salt and Pepper Shakers on eBay.