The Fostoria American Glass Handled Basket is a very interesting piece. Chances are, you won't find it listed in any official Fostoria Glass Company brochure or catalog.  It is my understanding that the Glass Handled Basket was never put in the production line for the general public; rather, it was made as a specialty piece.  While you can still find some pieces in the open market, they are not as plentiful.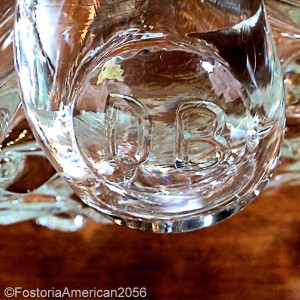 Each Fostoria Glass Handled Basket will bear the initials of it's maker. These initials can be found embossed in the handle, where it is attached to the bowl of the basket.  I have always found this to be a beloved and personalized trait, making the piece even more handcrafted.  In contrast, there are no glass maker initials in similar glass baskets produced by Indiana Glass.
One must be careful when purchasing this item online, or from a long-distance seller.  If shipping is involved, one should be sure to have the package insured. These glass baskets, while strong in their own right, will break during transit if not packaged extremely well.  I speak from personal experience.  Years ago I had purchased one from an out-of-state seller.  The package arrived, and I was so excited to have finally found one in excellent shape.  I picked up the box … and could hear glass fragments moving around.  My heart sank, for I knew when I opened up the box that it would be a disaster.  A disaster it was.  The seller had put the basket upside down in the box, with the weight of the glass bearing down on the handle.  I was frustrated by the seller's inability to care, package and ship the glass … but even more upset that this beautiful piece of Fostoria American crystal had perished needlessly.  Months later, when the next basket presented itself, I purchased it in person and carried it home with great care.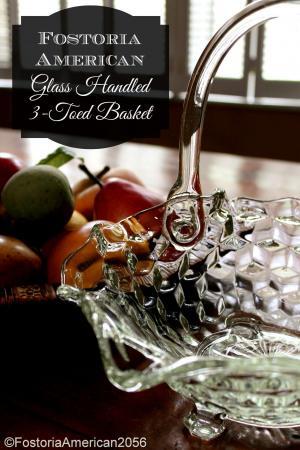 Fostoria made other baskets, such as the more readily available Reed-Handled Basket.  Another basket (extremely rare) was also produced – the Cobalt Glass Handled Basket, which was not flared in design. Interestingly enough, Fostoria also produced Ice Buckets with handles – and many people love to use them as "baskets".  These pieces, and their usage, is limited only by your imagination.  These baskets are an example of some of the finest glass craftsmanship ever produced.
Enjoy them!
If you are interested in purchasing a Glass Basket, please click the following affiliate link for any available Glass Handled Baskets on eBay.