Capture the magic of the season with handcrafted American glassware that makes your home say "Merry Christmas" to one and all.  I recently reached out to a few collectors, asking them each a few questions about their personal treasures.  They were all very cordial and supportive, eager to share their photos and thoughts on our common passion – Fostoria American.
This is a four-week story, that unfolds week by week.  It's not a tale of how big, or small, a collection is.  As everyone knows, a "collection" can literally consist of only two items, or it could be a hefty two-thousand items.  The difference between the two is of no consequence here.  My purpose today is to share with friends the true "spirit" of a Fostoria American Christmas, which has absolutely nothing to do with quantity – and everything to do with making memories that will last a lifetime.
One day per week, until Christmas Day, I will add and share some of the thoughts and pictures of my American collector friends.  Each one will be different – some will be simple, others more extravagant – but all will have meaning.  All of the pictures provided were sent from the collectors themselves.  I might have needed to modify or crop a few photos for better clarity or viewing; however, all credit for the photos should go to the respective individuals.  I thank each and every one of them for participating, and for their coordinated efforts in providing holiday and festive decorations to help make your season bright.
If you're ready, let's take the first tour …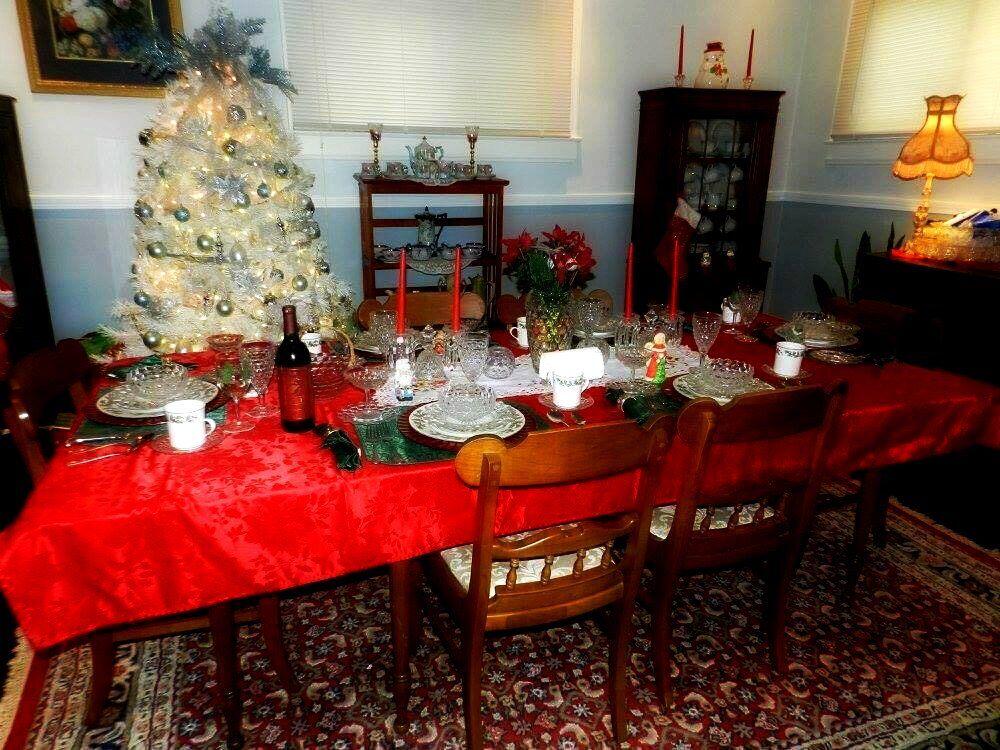 This first set of photos was sent in by Treena Spurlock-Kinder of Virginia Beach, VA.  One of the many things she loves about Fostoria American is where it originated from … "I love that it was made in my home state of West Virginia; the craftsmanship is supreme."  Now, take a moment and think about those words for a minute.  She is not commenting on the shape or design of the glass; she is commenting on where it came from (her home state) and the quality thereof.  This is when a seemingly simple piece of glass becomes so much more.  Each gleaming facet of Fostoria American is filled with history, pride, and USA craftsmanship.  It's a story worth telling your grand-kids while gathered around the table, and I promise you … the next time they drink or eat from a piece of Fostoria American, they will remember how special it is.  Consider it a memory that has just been born. ♥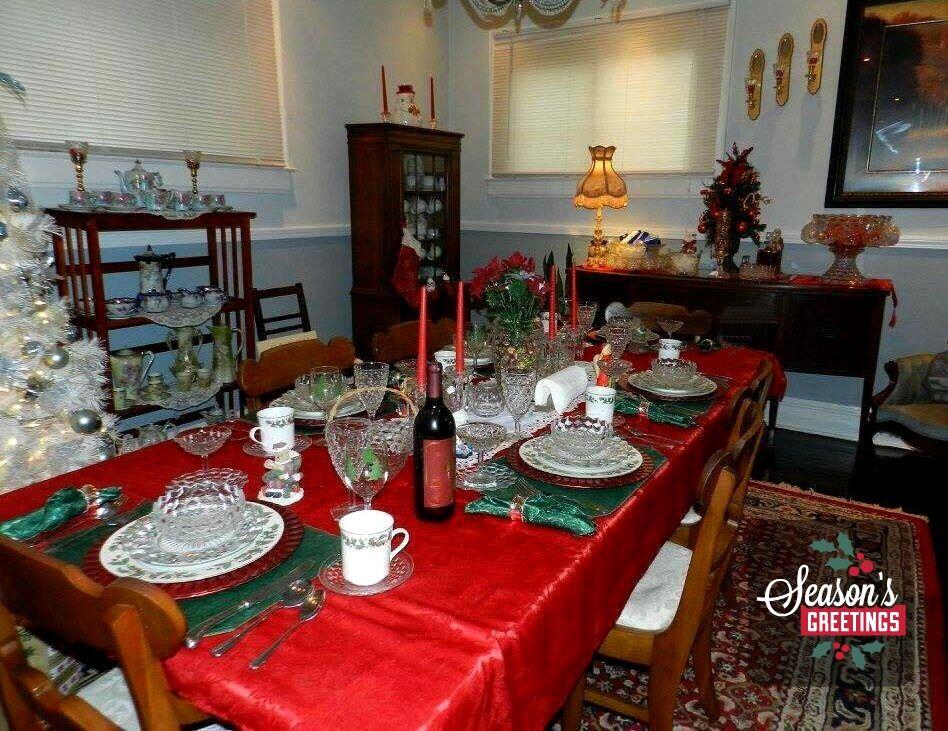 When Treena sets her table for Christmas, she considers it as part of decorating her home.  She is one collector who actively uses her pieces, for holidays and special occasions.  She recalls, "Sometimes the occasion can be as simple as wanting to share a special evening with a friend over dinner."  Treena's style is elegant and beautiful, and certainly will be appreciated by her family and guests.  While the American pattern has an antique flavor to it, it is also rugged and practical in feel.  It is suitable for a variety of celebrations – from a formal affair, to the most casual gathering of them all.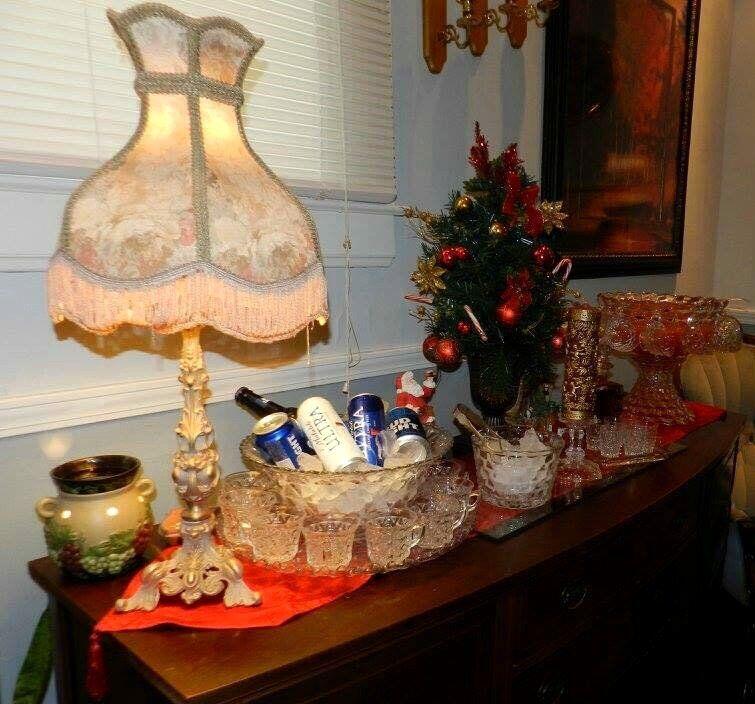 It's the most wonderful time of the year, and this drink display proves it.  While there is one punch bowl full of drinks, an American Punch Bowl is primed and ready for service at the other end of the table.  Perched upon a hefty Foot, it has Cups/Custards hanging from it like ornaments on a Christmas tree!  Let's not forget the Ice Tub and Tongs!  It appears Treena has covered every detail, making this display sparkle for the season.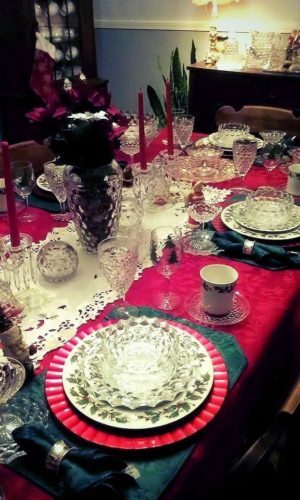 Treena is not new to collecting, as she has been doing so for about twenty years.  With quite a collection to her credit, she always considers it an adventure when hunting for her pieces.  As she exclaims, "It's my special treasure hunt!"  Based on all the various pieces displayed, it appears she is a seasoned treasure hunter – with a good eye.
I especially like the way she has mixed the American pieces with other china patterns, and placed other cups or mugs atop the American Saucers.  The key here is to make sure that the china and glassware are in scale to each other.  In other words, their relative size should give a feeling that they belong to each other, rather than one piece dominating the other by its grandiose or over-powering size.
Thank you for reading this special holiday story, and I will add to it each week – up until Christmas.  A very special "Thank You" goes out to Treena Spurlock-Kinder of Virginia.  If you like what you have read, please be sure to let us know your comments on Facebook.  Thank you, and Happy Holidays!