Please Note:  the following is Part 4 in a continuation of posts regarding other American collectors and how they use Fostoria American for the holidays.  This post is the final chapter in the series.  Each one has been different – some have been simple, others have been more extravagant – but all have been full of sentiment and classic beauty.
All of the pictures provided were sent from the collectors themselves.  I might have needed to modify or crop a few photos for better clarity or viewing; however, all credit for the photos should go to the respective individuals.  I thank each and every one of them for participating, and for their coordinated efforts in providing holiday and festive decorations to help make your season bright.  If you're ready, let's take the final tour …
The following set of photos was sent in by Dawnna Crick-Strassenburg of Chicago Heights, Illinois.  This is the time year that we usually sing Christmas carols we learned as a child, bake dishes that remind us of our grandparents, and in Dawnna's case … unpack sentimental treasures that bring back childhood memories.  Dawnna began collecting Fostoria American about thirteen years ago, after the loss of both her Gramma and Papa.  She recalls, "I inherited two pieces from them and fell in love!  I also inherited their Christmas Putz Village (cardboard houses).  I fell in love with those too!"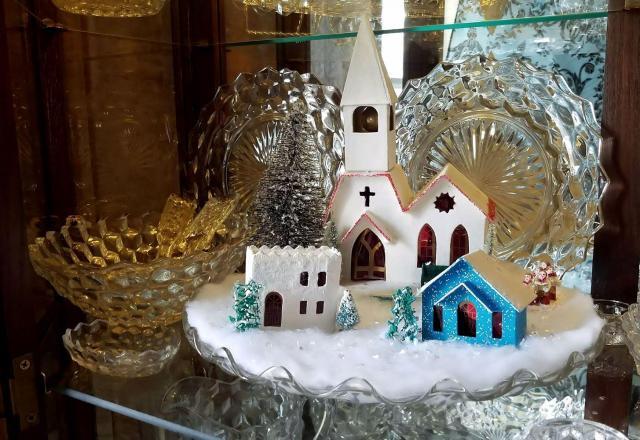 Popularity for Putz houses reached its peak during the 1920's through 1950's.  It was a German Christmas tradition that involved setting up a tiny village around the Christmas tree or nativity scene during the holidays.  Members of the family would "putz" around, making sure that each scene was decorated correctly and each piece was placed properly.  It was (and still is today) a wonderful family activity for decorating your home and sharing the magic of Christmas.
The two pieces of American that Dawnna inherited were the Mayonnaise (without the Plate and Ladle) and the 3-Part Candy Box (without the Cover).  Even without all their associated parts, these pieces of FA still had the power and lasting beauty to make a lifetime impression.
Since then, it is obvious that Dawnna has learned how to combine her beloved American and Putz collectibles into charming vignettes throughout her home.  Using Fostoria American as the support and backdrop pieces, she is showing off both her collectibles to their best advantage.  The iciness and coolness of the clear American glass really sets the scene – adding to the festive and winter atmosphere!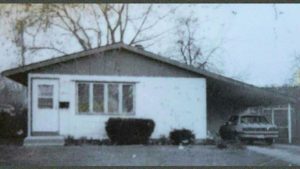 A couple years ago, Dawnna hired an artist to design and build her childhood home as an addition to her village.  The artist designed the home off of an old photograph.  By this time, however; the front window had been changed and the bushes mostly taken out.  They chose to go with the home's original details when designing the Putz house.  Dawnna states, "We have such fond memories of growing up in that house – my brother, sister and I.  This little Putz house is among my prized possessions.  It makes me happy to just look at it.  It was only natural that I put it with my Fostoria American, because it gives me that same warm feeling."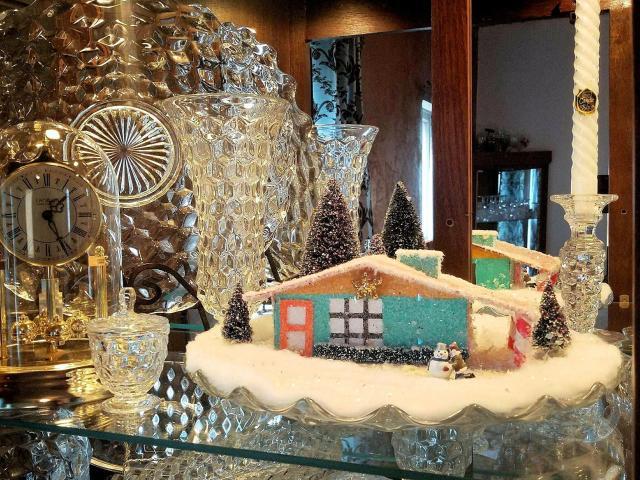 She further states, "My village and my glass make me feel closer to my grandparents and nearer to my childhood.  Memories of laying on the floor with my sister, by the Christmas tree, using our imaginations to give their little village life. Those were magical times for us.  Now, I get to share all that with my youngest son – who is ten, and an old soul.  He loves antiques, old stories, and can tell you if a piece is really FA or not.  He even made a house display all on his own!"  (see below)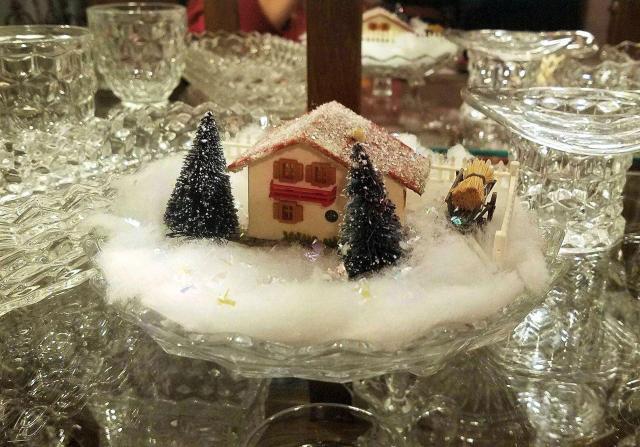 With a house full of boys, Dawnna usually stores her collection behind closed doors.  "I don't usually use my FA … as a boy mom (4 sons) and a Gramma (2 grandsons) and an Aunt (1 nephew), I fear for the safety of my FA!  I always have boys of varying ages and sizes in the house, and they all seem to be bulls in a china shop!  So, I keep my collection safely behind glass so there are no accidents."
For those of us who love vintage Fostoria American, and in this case – Putz houses, the Christmas season allows us to treasure our own past.  It also allows us the opportunity to preserve history by rescuing and displaying vintage treasures.  By doing so, we are honoring our ancestors that came before us, while playing an important role in preserving our own family antiquity.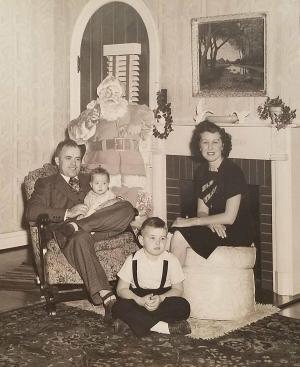 Here is a Christmas card photo of Dawnna's grandparents, taken in 1947.  Her grandfather is holding her father (his first Christmas) and her uncle is sitting on the floor.
I believe Dawnna's love of Fostoria American, and the Putz houses she inherited from them, is a result of the wonderful experiences her parents and grandparents provided to her in her youth.  It had nothing to do with the quantity or rarity of the pieces that she was bequeathed.  It did; however, have everything to do with the love, history, and memories that they represented.  As the years have passed, and her collections have grown, it appears that Dawnna is now passing on that heritage to her young son.  It is a pinnacle moment, and a shining example of true Christmas spirit.
Thank you for reading this final and very precious holiday story.  A very special "Thank You" goes out to Dawnna Crick-Strassenburg of Illinois.  If you like what you have read, please be sure to let us know your comments on Facebook.  Thank you, and Happy Holidays!