Please Note:  the following is Part 3 in a continuation of posts regarding other American collectors and how they use Fostoria American for the holidays.  One day per week, until Christmas Day, I will share a few holiday thoughts and pictures of my American collector friends.  Each one will be different – some will be simple, others more extravagant – but all will have meaning.
All of the pictures provided were sent from the collectors themselves.  I might have needed to modify or crop a few photos for better clarity or viewing; however, all credit for the photos should go to the respective individuals.  I thank each and every one of them for participating, and for their coordinated efforts in providing holiday and festive decorations to help make your season bright.  If you're ready, let's take the third tour …
This set of photos was sent in by Michelle Sugg of Rochester Hills, Michigan.  Amazingly, her family has been collecting Fostoria American for four generations!  Michelle's great grandmother (on her mothers side) started with American, who later passed it on to her daughter (Michelle's grandmother).  It was later passed on to Michelle's mother, who eventually passed it on to Michelle herself.  This is, without a doubt, a true testament to the durability and sentimental value of the American pattern.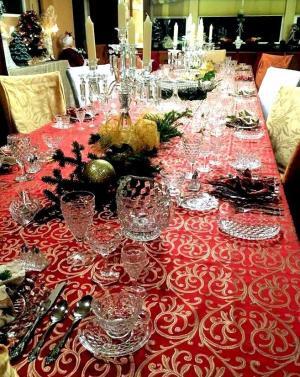 Michelle's collection has grown over the years.  She proudly states, "I have the original from my family, but my parents have added to it – as have I.  My parents decided that we (myself and my two brothers) needed a complete setting of 12 each, so the collecting has continued.  My mother passed away 17 years ago; however, I have continued to collect – with the help of my father.  I now have a complete place setting for 40, which includes three 18″ punch bowls."
Four years ago Michelle and her husband added an addition to their home in order to properly showcase their Fostoria collection.  She recalls, "I knew I wanted a room to be able to house the collection.  To make sure I could set a proper table, I found a local person to make my dining room table – which is 42′ long and 4′ across.  I wanted to make sure that there was enough room on the table for centerpieces and table settings, and most importantly, FOOD!  Today, tables simply are not wide enough for a "proper" table setting."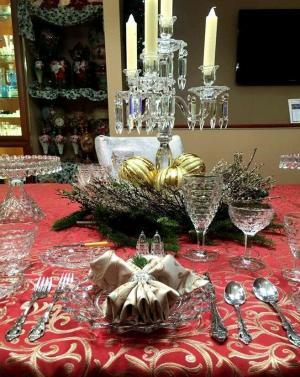 Here is a picture of Michelle's place setting – which is quite proper, indeed.  Her home was recently featured in their community holiday walk tour, in which she proudly displayed her American dinnerware on a festively adorned table.  Did you notice how everything is meticulously placed?  This is also a wonderful example of how to use, and where to place, the Individual Shakers (located above the Dinner Plate).
Michelle does a lot of unique things with her beloved American collection; however, one thing I really like is how she serves her butter during the holidays.  She buys butter that is shaped like little Christmas trees, and then places them in her Round Butter & Cover dishes.  Keller's Creamery Butter Sculptures is one place that makes them (there might be others), and then they distribute the product to certain stores during the month of December.  If you can find a local store that sells them, you can achieve the same wonderful results!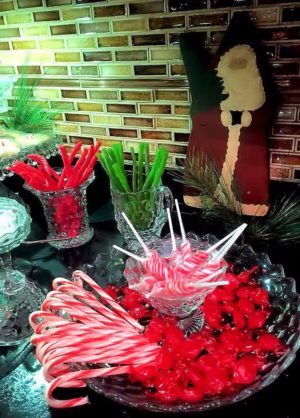 Doesn't this look like the most perfect Sweet Shoppe for Santa and all of his little Elves?  Different pieces of FA are being used for purposes other than what they were originally intended for.  This is one trait of the American pattern that I am especially fond of – its versatility!  Michelle's choice of candy colors and flavors are perfect, yet what impresses me the most is the innovative way she uses the Shrimp and Dip, the Flared Vase and the Pitcher.  The Elves are going to be very happy with this menu!
Michelle and her family use their beloved Fostoria American all the time, no matter what time of the year it is.  "We use FA all the time here, almost an everyday thing.  We even use our FA every first Thursday of the month for our Great Lakes Depression Glass Collectors Club board meetings, which are held in my home."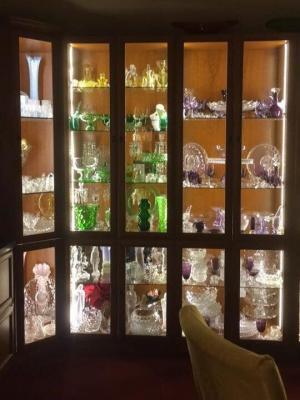 As you can easily see here, Michelle knows how to showcase her Fostoria collection in grand style.  Her display presentation is simply stunning.  Michelle remembers that when they did the addition to their home … "My local cabinet maker decided that in order to get the best lighting for all areas of the cabinet, that we would need to run vertical LED lighting throughout.  This helps show all shelves in the cabinets."  I must say, it appears that they accomplished their goal in spectacular fashion.
Thank you for reading this special holiday story.  A very special "Thank You" goes out to Michelle Sugg of Michigan.  If you like what you have read, please be sure to let us know your comments on Facebook.  Thank you, and Happy Holidays!