Please Note:  the following is a continuation of my original "Fostoria American for the Holidays" post, which was published last week.  As mentioned previously, one day per week, until Christmas Day, I will add and share some holiday thoughts and pictures of my American collector friends.  Each one will be different – some will be simple, others more extravagant – but all will have meaning.
All of the pictures provided were sent from the collectors themselves.  I might have needed to modify or crop a few photos for better clarity or viewing; however, all credit for the photos should go to the respective individuals.  I thank each and every one of them for participating, and for their coordinated efforts in providing holiday and festive decorations to help make your season bright.  If you're ready, let's take the second tour …
This set of photos was sent in by Roberta Mearns of Schwenksville, PA.  Roberta has been collecting for almost fifty years.  "My mother-in-law put my first piece (a vase) in my hope chest 47 years ago, and I have been collecting ever since."  Here is one tip she would like to share with all of us, "I always handle my American pattern with great care, never letting it end up in the dishwasher.  All pieces are washed carefully by hand."  Roberta is correct in her thinking, for if you want your treasures to last for generations to come, never (under any circumstances) put them in the dishwasher.
There is one simple trait of Fostoria American that Roberta is quite fond of – and that is its elegance.  Many times people will focus on the size, shape, or color of a piece; however, every item – even a common plate – can be quite elegant in its own right.  Roberta states, "I find that the elegance of clear glass always works with any tablecloth. The blue plate liner is our Christmas Santa plate (Eldreth Pottery – collected 1/year since 1991). The Holiday is a short season running from Thanksgiving to the New Year; therefore, the Eldreth comes out at Thanksgiving.  Our Fostoria is used daily during the holiday season!"
I found Roberta's combination to be quite striking, with the Fostoria American plate emphasizing the beauty and design of the Eldreth plate that sits beneath it.  This is yet another reason why I love the clear crystal pieces, for they enhance each and every piece of china that is lucky enough to sit atop, beneath, or beside them.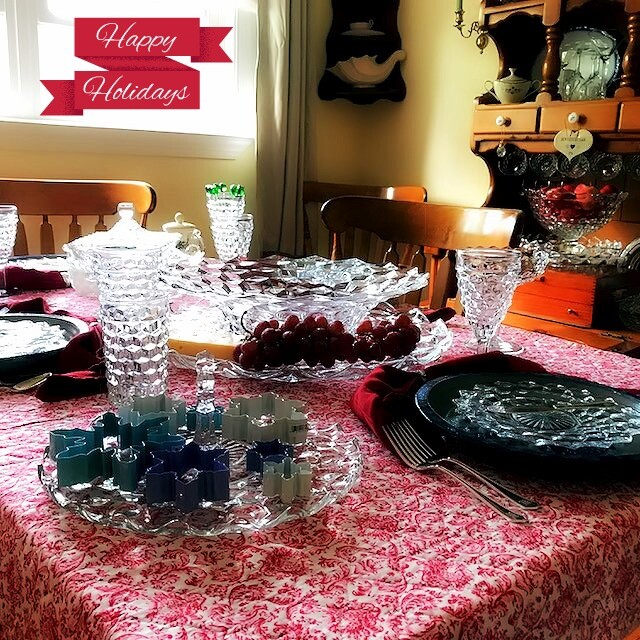 I found Roberta's tablescape to be quite charming, offering an abundance of warmth and welcoming undertones.  An old Fostoria American magazine ad states "Raise your morale the American way", and that is exactly what happens when you gaze upon this pretty table.  I'm not sure I would have had the originality or perspective to use the beautiful combination of cranberry, blue, and crystal for the holidays; however, I am so thankful Roberta did!  As the vintage ad continues, it states "So buoy your spirits by treating yourself to a crystal service of charmingly practical American."  Well done, Roberta … for I think your lovely table setting would have been perfect for this vintage ad.  Charming it is, and so much more!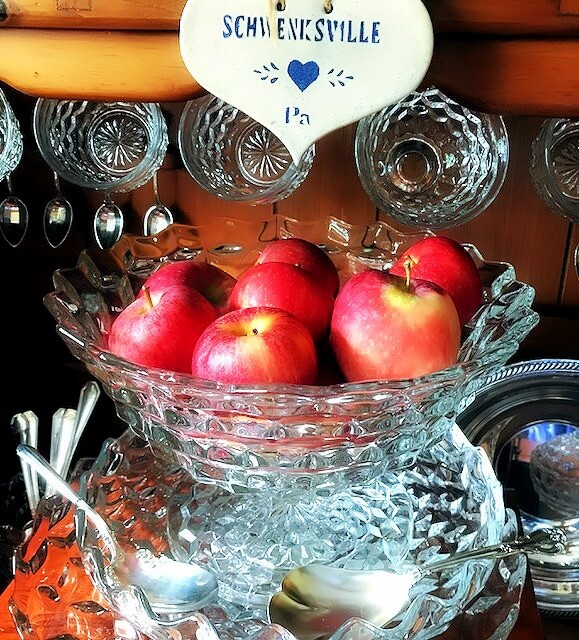 This particular photo tickles my heart on so many levels.  The personal touch and heart-felt sign of the town they live in is hanging prominently above the Footed Fruit Bowl.  The Footed Fruit Bowl is also known as the Small Punch Bowl and/or the Tom and Jerry Bowl.  Roberta has it beaming with an abundance of red apples, which is perfect for the holidays.  "My larger pieces, as displayed with the apples, are always on display in my home.  One bowl must always provide for fresh fruit!" she exclaims.  Notice the cups hanging above?  At a moment's notice, the role of this American piece can easily change from a Fruit Bowl to a Punch Bowl.  How wonderful!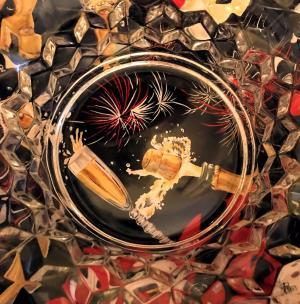 This last photo is one of my favorites.  To me, it looks like a piece of expensive art.  Roberta utilizes the clear center of a piece of glass to highlight a design that resides underneath.  I do this as well; however, I rarely see others do it.  I was thrilled to see that Roberta incorporates this design trick as well, for it adds another beautiful dimension to your tabletop.
I will end this post on a personal sentiment that Roberta feels strongly about.  I share her views, and find her words to be heartfelt and true.  "It saddens me to see our youth so easily dispense of these cherished pieces of glass, silver, etc.  To me, it would seem that we are losing the elegance of family dinner parties of the 50's and 60's.  So, I make sure that my children celebrate the beauty of the elegant dinner parties, at least during the holidays."
Thank you for reading this special holiday story, and I will add to it each week – up until Christmas.  A very special "Thank You" goes out to Roberta Mearns of Pennsylvania.  If you like what you have read, please be sure to let us know your comments on Facebook.  Thank you, and Happy Holidays!