Every year I design new coffee mugs for the change of seasons.  This year I designed three variations for autumn, featuring different pieces from the Fostoria American pattern.  I purposely ordered a few more than usual, as it seems people always want to purchase extras for themselves and others.  All of the pictures featured on the mugs are from my personal photo collection.
There are three color choices to choose from: a black/white combo, a solid white, or a solid black.  I have a very small inventory, so this offer will only be valid while supplies last.
The solid white mugs and black/white combo mugs each feature six photos.  The pictures are of the Amber Stopper to the Cologne bottle, the Amber Cookie Jar, the Amber Confection and Cover, the Footed Cup and Saucer, an Amber 6″ Candlestick, and the complete Amber Cologne bottle.  (See below).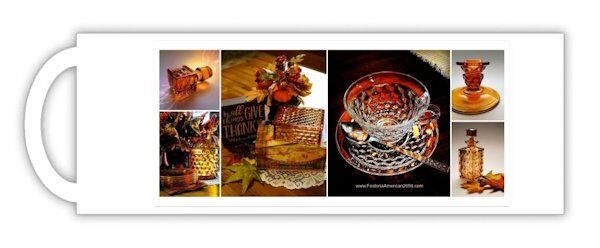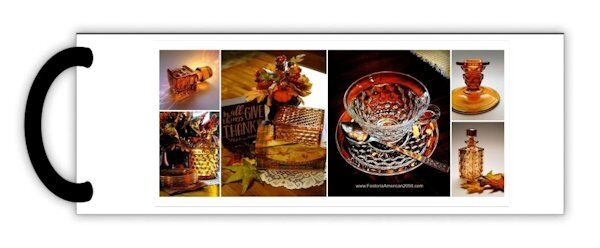 In contrast, the solid black mugs display three large photos.  They feature the Handled Sherbet, the 10 oz. Hex Foot Goblet, and the Footed Cup and Saucer.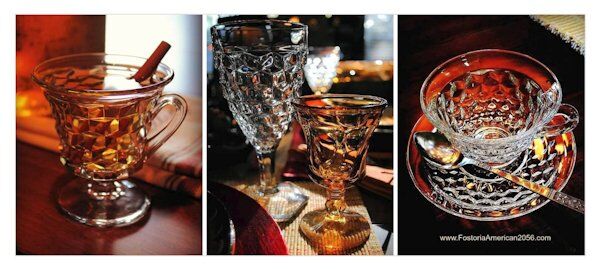 Since these mugs were designed for the fall season, the colors and/or items in the photos have an amber or golden hue to them.  Many of these pictures have been previously displayed on my website or Facebook page.  They make a nice gift for an American collector, or just to enjoy with family and friends around the dinner table.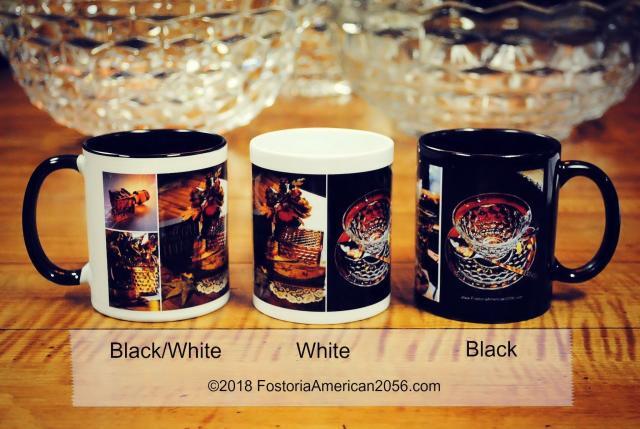 The coffee mugs are from my personal supply.  I am selling the extra ones I bought – which are all new, and unused.  The mugs hold approximately 11 oz., and are about 3¾" tall.  Two of the mugs will have a black handle; the white mug is solid white – including the handle.  Since these are specialty items, they were not inexpensive to make.  The price for each is $24.95 – which includes free Priority Mail shipping.  If you order more than one, the price is reduced to $19.99 each (which also includes free shipping).
If you would like to purchase any of the coffee mugs, please contact me.  I will accept payment through PayPal, via the family and friends option.  Thank you!