Item Number:  #430
Height:  2¾"
Production Dates:  1940-1958
The Fostoria Glass Company produced three different types of Liners that could be used with the 2056 Ice Dish – the Fruit Cocktail Liner, the Crab Meat Liner, and the Tomato Juice Liner.  These inserts (unlike the actual Ice Dish) are "blown" glassware; therefore, they are lighter, thinner, and more fragile than the pressed American pieces.
An interesting point to remember is that the assorted Liners are not officially from the American pattern, Line 2056.  While the Liners were sold and used with the American pieces, they actually were assigned their own line number – 2451.  Other Fostoria patterns, such as the Fairfax line, also used these same shaped Liners.  The Liners that were used with the American pattern were made in clear crystal and were produced from 1940-1958.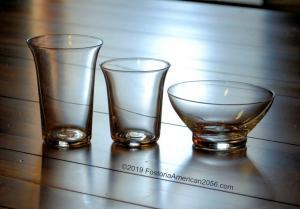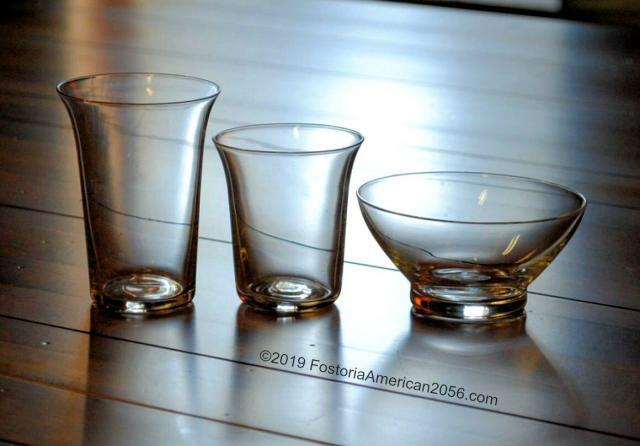 The Crab Meat Liner (pictured in the center) has a holding capacity of approximately 4 ounces.  It is about 2¾" in height and has the smallest holding capacity of all three liners.  The Tomato Juice Liner is the tallest and the Fruit Cocktail Liner is the shortest – each with a 5 oz. holding capacity.
If you would like to learn more about pricing and availability, please click the following sponsored link for available Crab Meat Liners on eBay.